THE BMW FINANCIAL SERVICES.
Start driving your dream today.
Your new BMW is within reach. All you need is the perfect financial solution with tailor-made leasing and loan options:
ORIGINAL BMW ACCESSORIES.
Feeling good, feeling familiar.
All BMW drivers enjoy driving pleasure as standard. Original BMW Accessories exists to meet your special desires. We offer a broad selection of individual additions and extras that are perfectly suited to your vehicle in quality, design and performance, offering you maximum added value – whatever you have in mind.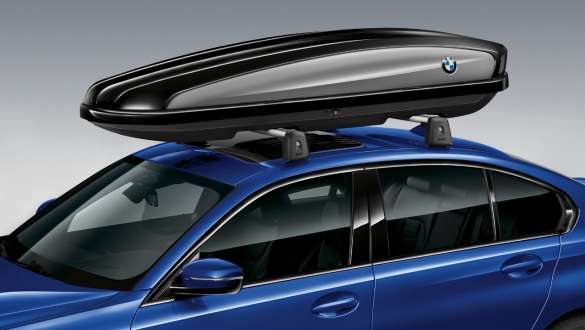 Roof box 420.
The modern BMW roof box in black with titanium silver side panels has a storage capacity of 420 litres and is compatible with all BMW roof rack systems. Due to the fact that it can be opened from both sides and has triple central locking on each side it is convenient to load and lock for theft protection.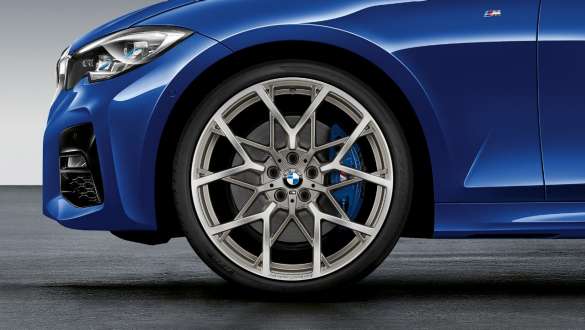 20" M Performance Y-Spoke 795 M Bicolor.
The high-qualilty 20'' M Performance forged wheels Y-Spoke 795 M are designed in Bicolor Ferric Grey matt, gloss-milled and feature the colour M Logo and milled M Performance lettering. TPMS summer complete wheel set with run-flat tyres, wheel size 8J x 20 with tyre size 225/35 R20 90Y XL RSC at the front and 8.5J x 20 with tyre size 255/30 R20 92Y XL RSC at the rear.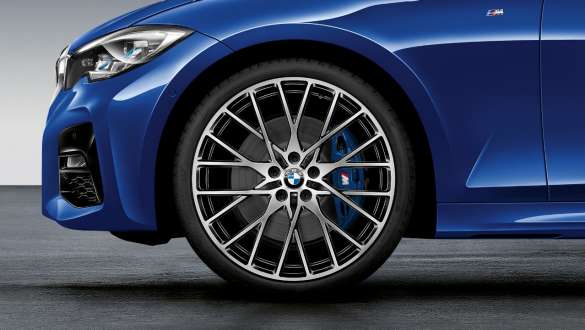 20" M Performance Cross-spoke style 794 M Bicolor (Jet Black).
The high-quality 20'' M Performance forged wheels Cross-spoke style 794 M are designed in Bicolor Jet Black, gloss-lathed and feature the colour M Logo. TPMS summer complete wheel set with run-flat tyres, wheel size 8J x 20 with tyre size 225/35 R20 90Y XL RSC at the front and 8.5J x 20 with tyre size 255/30 R20 92Y XL RSC at the rear.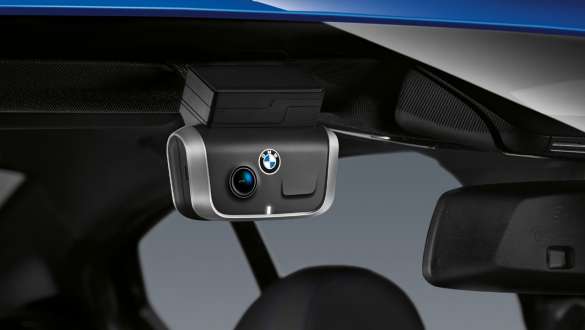 BMW Advanced Car Eye 2.0.
The BMW Advanced Car Eye 2.0 is a highly sensitive full-HD camera that captures events in front of and behind the car, even when it is parked. In the event of disturbances and extraordinary movement outside the vehicle, the camera automatically records the situation in order to document possible accidents or (attempted) break-ins.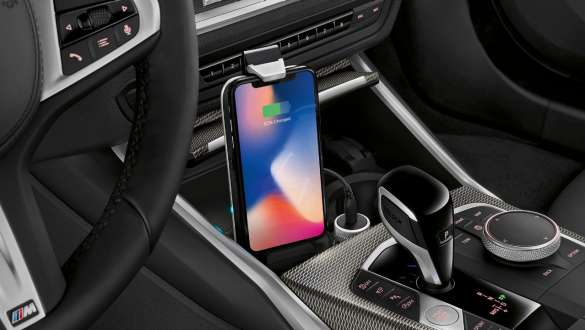 BMW wirless charging stattion universal.
Wireless charging, any time and anywhere: Thanks to the BMW wireless charging station universal the smartphone can be charged comfortably and efficiently without a cable in the vehicle. The mobile phone is saved in a stable and safe way. Especially smart: The integrated powerbank can be removed and enables wireless charging outside the vehicle.
All-weather floor mats front.
The perfectly fitted, durable BMW all-weather floor mats with a raised border and elegant design protect the front footwell against moisture and dirt. They are black and feature a high-quality stainless steel inlay.
Discover more BMW accessories by categories.
BMW SERVICES.
Don't take your worries on the road.
BMW sets the standards in service and is always there for you. With Breakdown and Accident Assistance, our experts are available to you around the clock for emergencies – 365 days a year. Thanks to the innovative BMW Teleservices, your BMW automatically notifies your BMW Service Partner of maintenance needs and malfunctions, so they can contact you independently. With BMW Service Inclusive, these and all other services are financially covered for the time period of your choice. Secure more time for the important things in your life: With the wide range of services offered by BMW, you are always on the safe side.
BMW Service Inclusive.
Just let go and concentrate on what really matters – enjoying the drive. With BMW Service Inclusive, you can do just that. With a single one-off payment you get all included services and maintenance tasks for a period of your choice.
BMW Teleservices.
With the innovative Teleservices of BMW ConnectedDrive your BMW helps you to keep a clear head: when maintenance is needed or in case of a malfunction it provides your preferred BMW Service Partner with all relevant vehicle data. Your Service Partner will then contact you to arrange an appointment. So you can rely on a fast and straightforward service and don't have to think of everything yourself. The only requirement: you have registered your vehicle online in the BMW ConnectedDrive Portal and have selected a Service Partner. Discover now how BMW Teleservices can bring more convenience to your life.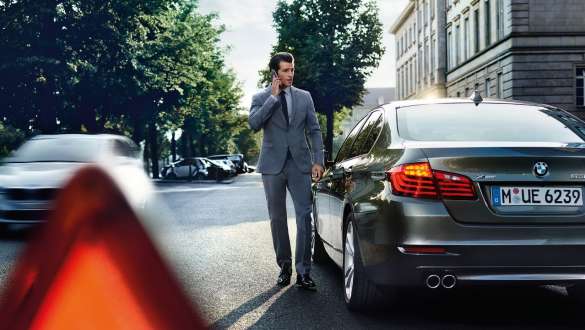 BMW Roadside Assistance.
The free BMW Roadside Assistance service is available to all BMW drivers around the clock, 365 days a year. A single call – and our experts are at your service, either on the phone or on the scene if required.
BMW M PERFORMANCE PARTS.
Show character.
Hardly on the road, the BMW 3 Series Sedan leaves everything behind - conventions as well as competition. In combination with BMW M Performance Parts, the ultimate sports sedan shows once again how to continually reinvent.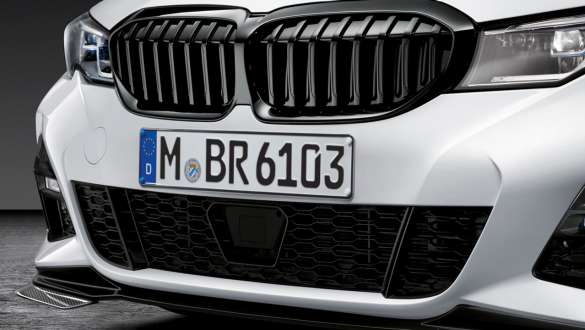 M Performance kidney grille black high-gloss.
Strong character: The kidney slats and surrounds in black high-gloss exude power and dynamism. For a unique appearance that makes a clear impression.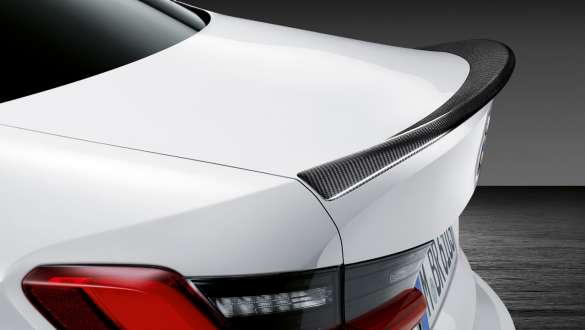 M Performance rear spoiler, carbon fibre.
Even more impressive: The M Performance carbon fibre rear spoiler emphasises the premium-quality, dynamic appearance of the car. The high-tech material carbon fibre makes it extremely lightweight, and at the same time very sturdy. The rear spoiler optimises aerodynamics and enables even more athletic driving characteristics.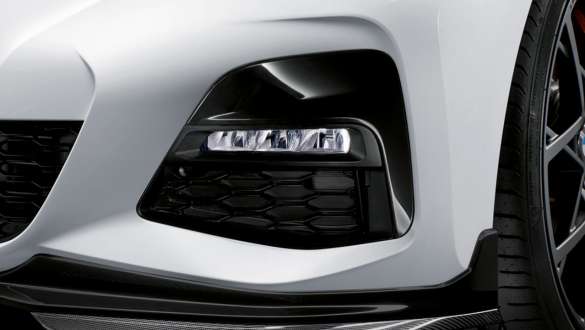 M Performance front splitter Pro, carbon fibre.
Make a strong statement: The 100 percent carbon fibre M Performance front splitter Pro provides optimum aerodynamics and highlights the vehicle's masculine appearance in a highly exclusive manner. A unique motorsport look for anybody who refuses to compromise.
M Performance steering wheel.
Gripping facts: Thanks to its Alcantara-lined grip area the M Performance steering wheel provides excellent feel and grip – for a sportier steering feel. Its distinctive design and centre band made of red leather underscore its motorsport style. In addition: M Performance steering wheel trim, carbon fibre/Alcantara and M Performance gearshift paddles carbon fibre.
M Performance floor mats.
Premium look, outstanding grip: The M Performance floor mats add an individual athletic touch to the footwell, lending the whole car a more dynamic appearance. With M logo and M Performance lettering. The premium design is rounded out by leather-look surrounds with decorative stitching in contrast colours and a band in the M colours.
M Performance interior trims, carbon fibre.
Visible excitement: The M Performance interior trims are completely made of open-pored carbon fibre. The special processing of the trims not only gives them a particularly striking look but also a unique feel. For an individual motorsport look in the vehicle interior.
THE BMW CONNECTIVITY SERVICES.
Always one step ahead.
Together with the intelligent BMW ConnectedDrive Services such as Real Time Traffic Information, Connected Music or Remote Services, you are always connected to your BMW and with the world.
Discover more BMW mobility services by categories.
Fuel consumption and CO2 emissions.
* Available from 07/2019. Data is preliminary.

BMW 330i Sedan:
Fuel consumption in l/100 km (combined): 5,8
CO2 emissions in g/km (combined): 132

The values of the vehicles labeled with (2) are preliminary.