LEAD THE WAY. AND LET THE WORLD FOLLOW.
BMW ConnectedDrive Services & Apps in the BMW X1.
Communication, information and entertainment – experience an entirely new form of mobility with the Service & Apps from BMW ConnectedDrive.
Read more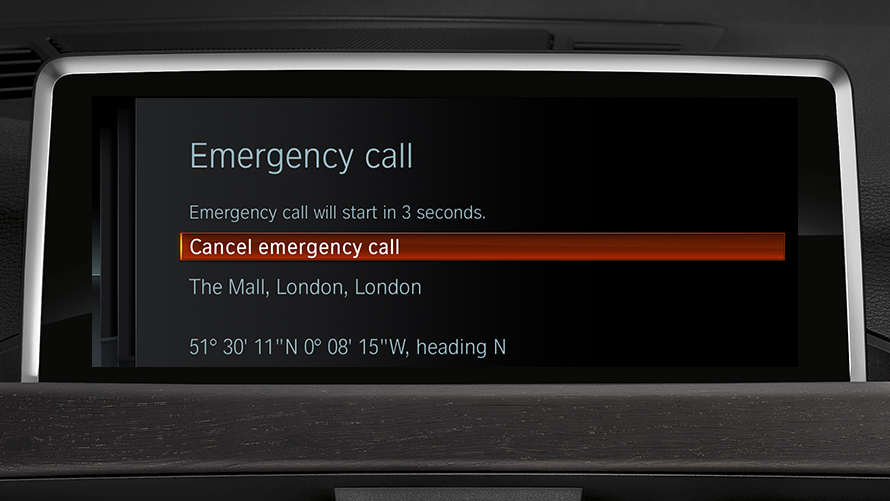 INTELLIGENT EMERGENCY CALL.
The Intelligent Emergency Call automatically establishes a connection with the nearest rescue coordination centre through the BMW Call Centre whenever needed – without the use of a mobile phone. It transmits information regarding the vehicle's current location and the severity of the accident. The Intelligent Emergency Call can also be triggered manually in case other road users require help, for example.

Intelligent Emergency Call.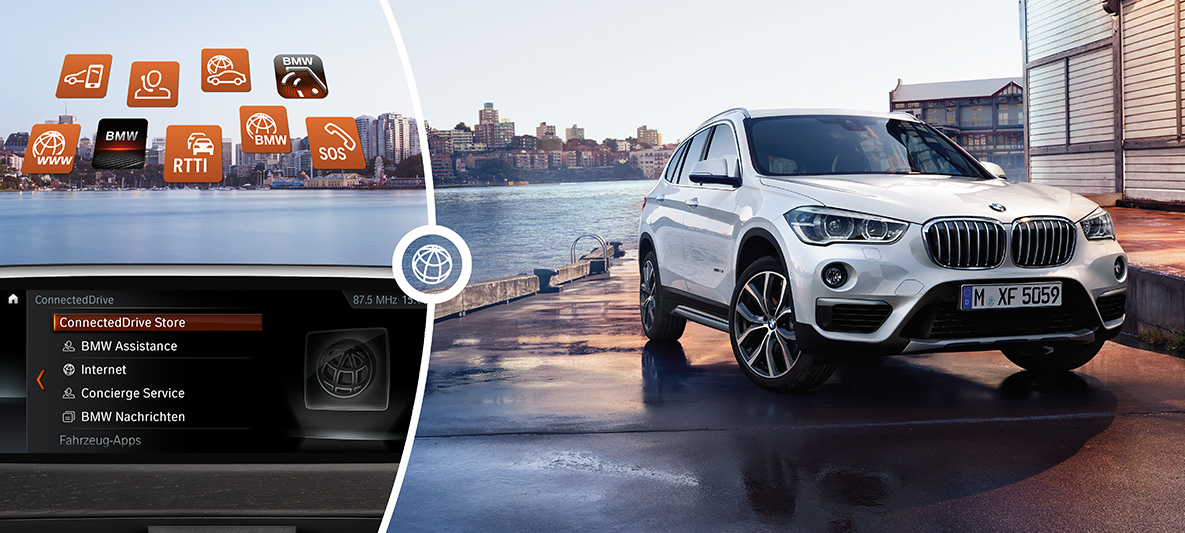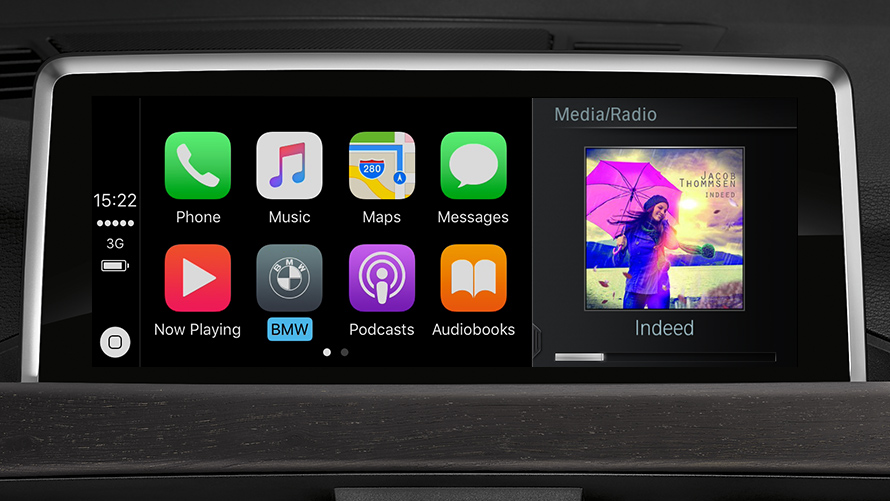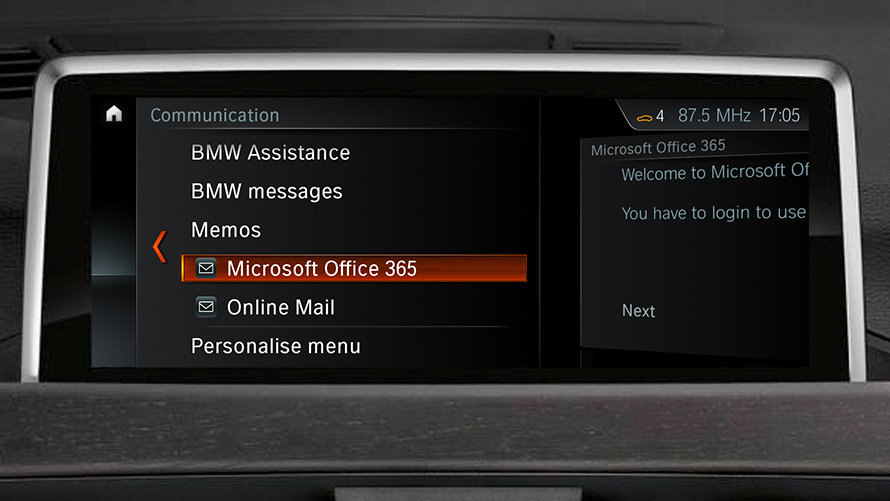 CONNECTED DRIVE SERVICES.
ConnectedDrive Services opens the door to the digital world of BMW. Use in-vehicle apps to stay fully up to date at all times regarding the news and weather. There is also an Office tool and an online search function. ConnectedDrive Services is a basic package that is needed when purchasing other digital services.

Preparation for Apple CarPlay®

Why go without the features of your iPhone in your BMW when you can continue operating it as usual? The preparation for Apple CarPlay® gives you remote access to telephony as well as apps like iMessage, WhatsApp, TuneIn, Spotify and Apple Music. You can also use the voice button on the steering wheel to access Siri, Apple's voice assistant.


Microsoft Office 365

Work productively on the commute. Thanks to perfect integration of Microsoft Office 365 in the vehicle, emails, contacts and calendar entries are continuously synchronised with other devices and can be edited directly – even without a smartphone. Plus, Skype for Business conference calls can be automatically joined with just one click.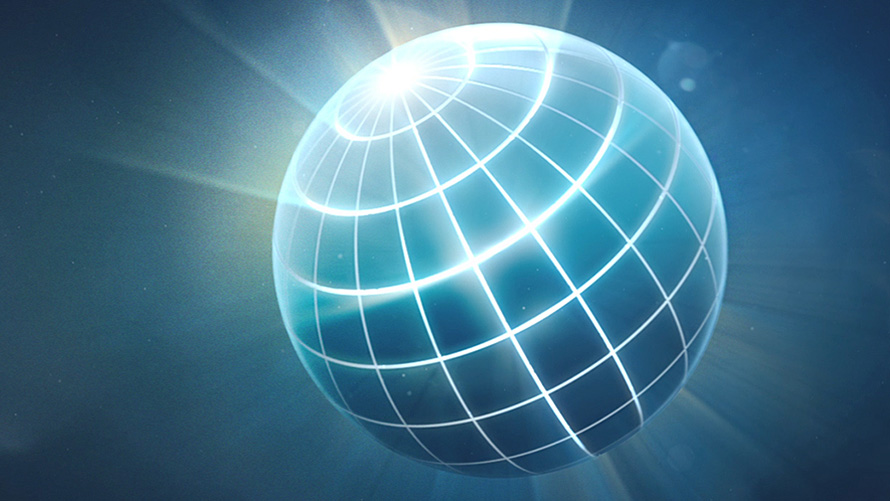 BMW CONNECTED.
Connect with your BMW. The BMW Connected app is your digital mobility assistant which takes care of your needs before and during your journey. Access your car using your smartphone, smartwatch or Amazon Echo, send destinations to the navigation system or receive reminders for meetings to make sure you arrive there on time.

BMW Connected App on the App Store
TELEPHONY WITH WIRELESS CHARGING.
Telephony with wireless charging includes a wireless charging dock* and additional USB ports. A roof aerial connection improves mobile reception. Two mobile telephones and an audio player can be connected simultaneously via Bluetooth. Also included are: Bluetooth Office and the technical capacity for a WiFi hotspot.

*Universal, wireless smartphone charging dock only functions with compatible smartphones. Wireless charging solutions for non-compatible smartphones are available online or at your BMW partner.
WIFI HOTSPOT.
Take part in video conference calls on your tablet or stream the final episode of your favourite series on your smartphone. The Wi-Fi Hotspot is a way to go online with LTE speed (if available) using the SIM card installed in your vehicle. You and your fellow passengers can surf the Web on up to ten devices.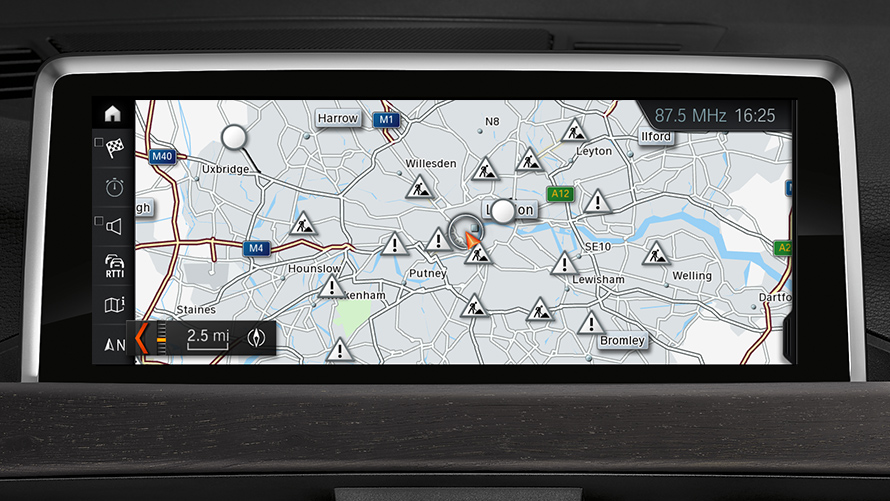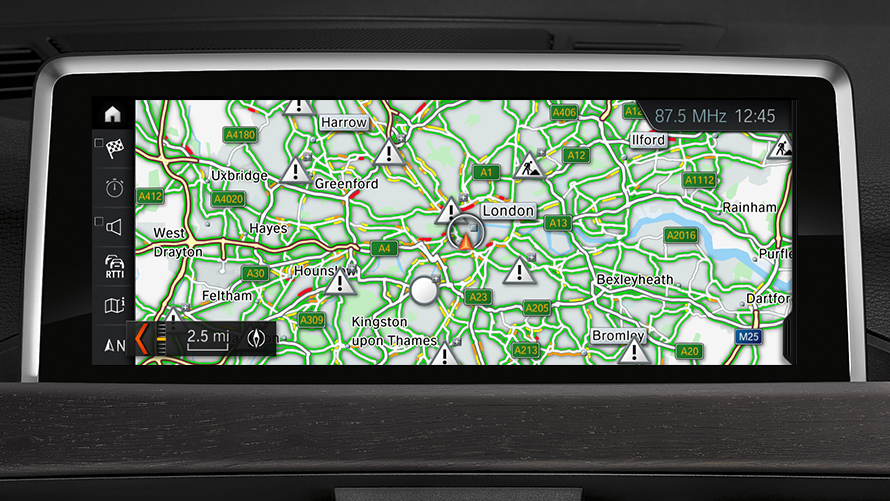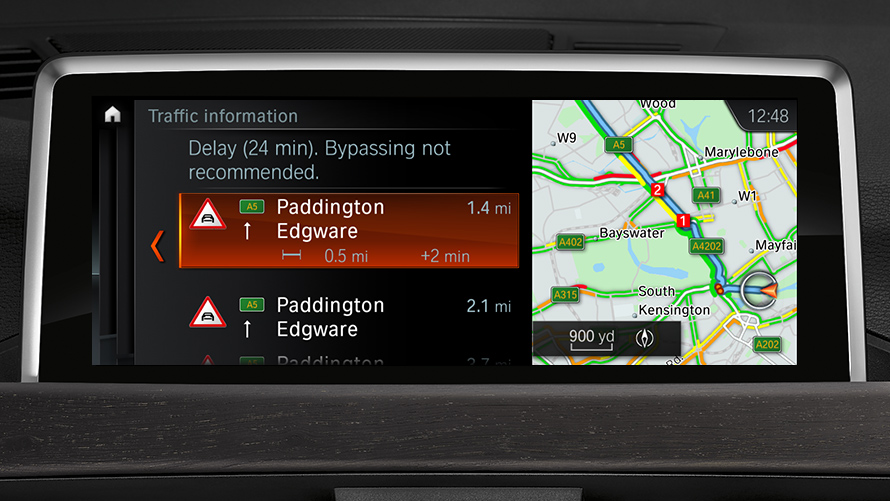 REAL TIME TRAFFIC INFORMATION.
Real Time Traffic Information (RTTI) provides the most up-to-date traffic information at all times. Precise details about the location and duration of delays are transmitted in order to keep the driver informed, practically in real time, about the current traffic situation on motorways, country roads and on many routes within the city. Intelligent alternative route suggestions help the driver reach their destination as quickly and efficiently as possible. The data are drawn from such sources as anonymous movement profiles from the GPS data of vehicle fleets, smartphone apps and police reports, and also takes into account established traffic patterns such as peak commute times. The traffic information is clearly presented, with the roads depicted in green, yellow, orange and red.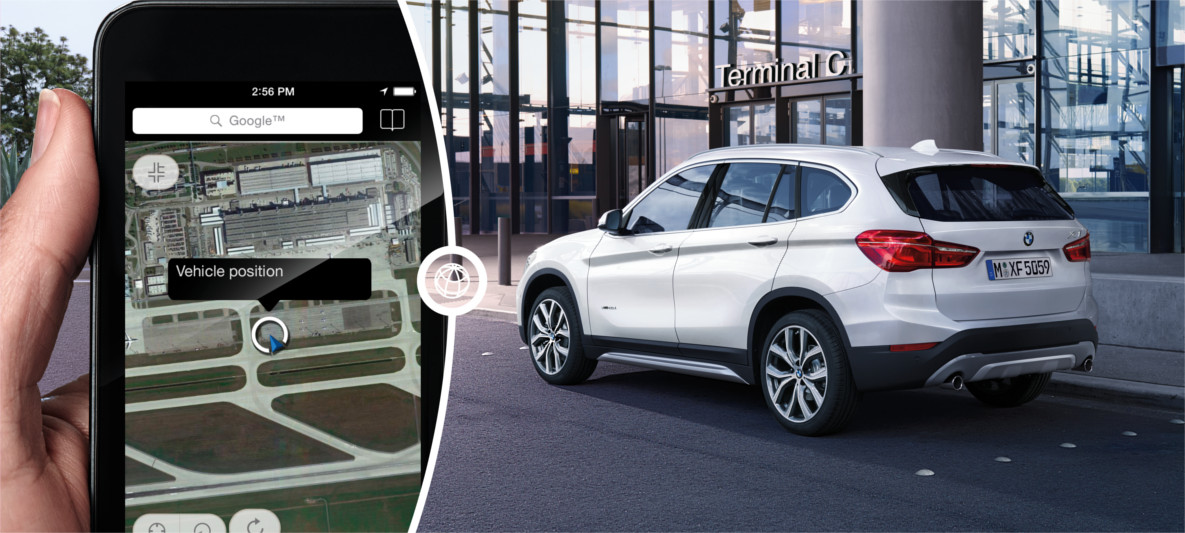 REMOTE SERVICES.
With the Remote Services of the BMW Connected App (available in the Apple App Store), various vehicle-related functions, such as locking and unlocking the car, can be operated remotely.

Just as the BMW ConnectedDrive customer portal, the app also offers the opportunity to access vehicle information such as range or the status of the windows and doors. That way the driver is always fully informed about the status of the vehicle, even from a distance, and also has all information conveniently gathered together at one glance.

This information package is rounded out with the display of the vehicle's current location. To use this feature, customers simply need to activate Remote Services once in the BMW ConnectedDrive customer portal at www.bmw-connecteddrive.com.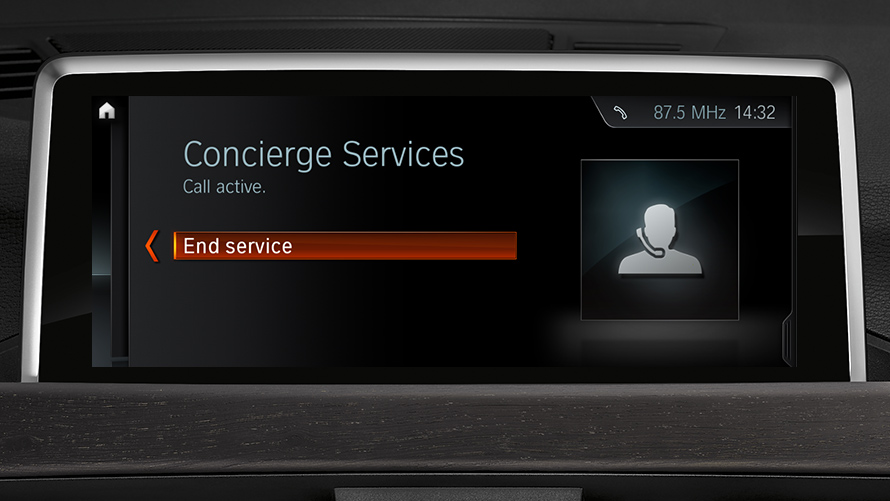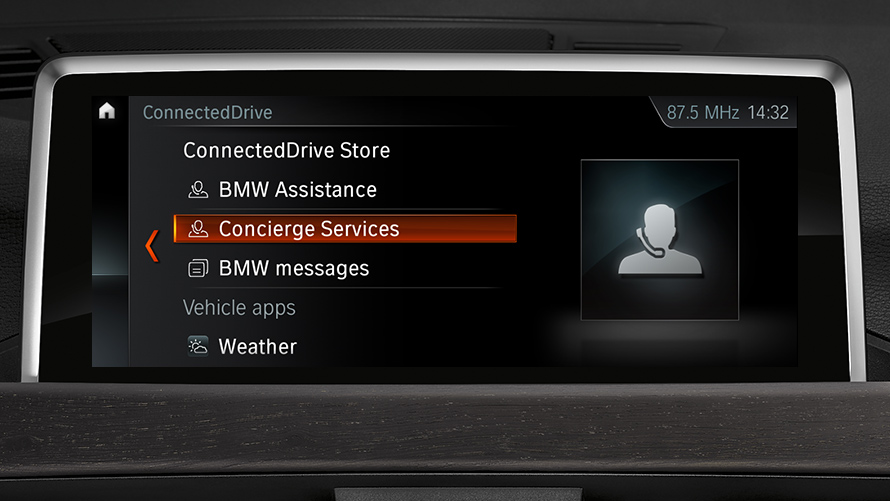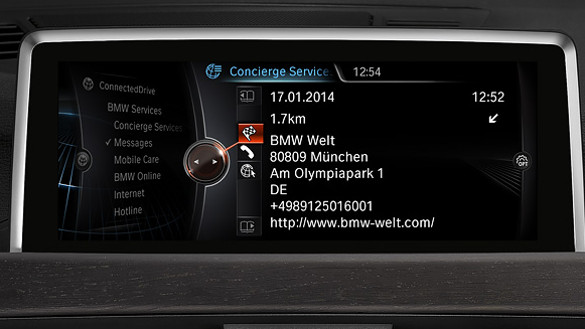 CONCIERGE SERVICE.
Request specific information on the road and receive practical information and tips – Concierge Service by BMW ConnectedDrive make it possible. At the touch of a button this convenient service connects the driver to a BMW Call Centre employee, who acts as their "personal assistant" on the road.

Whether a particular restaurant, the nearest cash dispenser or an emergency pharmacy – the BMW Call Centre agent is there to help and can even send information directly to the BMW navigation system. It is also possible to conveniently reserve cinema tickets while driving. Concierge Service works independently of your mobile phone and are available both at home and abroad, around-the-clock, seven days a week and at no extra cost.

Fuel consumption and CO2 emissions.
Fuel consumption and CO2 emissions for the BMW X1 models with petrol or diesel engine:
Fuel consumption in l/100 km (combined): 6.6 to 3.9
CO2 emissions in g/km (combined): 152 to 104
Fuel consumption and CO2 emissions for the BMW X1 xDrive25i:
Fuel consumption in l/100 km (combined): 6.6 to 6.4
CO2 emissions in g/km (combined): 152 to 149
Further information about the official fuel consumption and the official specific CO2 emissions for new passenger automobiles can be found in the 'New Passenger Vehicle Fuel Consumption and CO2 Emission Guidelines', which are available free of charge at all sales outlets and from DAT Deutsche Automobil Treuhand GmbH, Hellmuth-Hirth-Str. 1, 73760 Ostfildern, Germany.
Read more

FUEL CONSUMPTION AND CO2 EMISSIONS.
Fuel consumption and CO2 emissions for the BMW X1 models with petrol or diesel engine:
Fuel consumption in l/100 km (combined): 6.5 to 4.3
CO2 emissions in g/km (combined): 149 to 114

Fuel consumption and CO2 emissions for the BMW X1 xDrive25i (1):
Fuel consumption in l/100 km (combined): 6.5 to 6.3
CO2 emissions in g/km (combined): 149 to 144

The values of fuel consumptions, CO2 emissions and energy consumptions shown were determined according to the European Regulation (EC) 715/2007 in the version applicable at the time of type approval. The figures refer to a vehicle with basic configuration in Germany and the range shown considers optional equipment and the different size of wheels and tires available on the selected model.

(1) The values are applicable until 15.04.2018. Please check availability with your BMW dealer.

The values of the vehicles labeled with (3), are already based on the new WLTP regulation and are translated back into NEDC-equivalent values in order to ensure the comparison between the vehicles. [With respect to these vehicles, for vehicle related taxes or other duties based (at least inter alia) on CO2-emissions the CO2 values may differ to the values stated here.]

The CO2 efficiency specifications are determined according to Directive 1999/94/EC and the European Regulation in its current version applicable. The values shown are based on the fuel consumption, CO2 values and energy consumptions according to the NEDC cycle for the classification.

For further information about the official fuel consumption and the specific CO2 emission of new passenger cars can be taken out of the "handbook of fuel consumption, the CO2 emission and power consumption of new passenger cars", which is available at all selling points and at https://www.dat.de/angebote/verlagsprodukte/leitfaden-kraftstoffverbrauch.html.