THE DRIVING DYNAMICS OF THE BMW M340i xDRIVE TOURING AND THE BMW M340d xDRIVE TOURING.
Turns anticipation into driving pleasure.
From a love of motor racing: with Original BMW M suspension components, the BMW M340i xDrive and M340d xDrive Touring guarantee thrills at the highest level. Created for maximum demands in dynamics, they inspire with impressive performance and perfected driving characteristics. The Adaptive M suspension with Variable sport steering, supported by the M sport differential with permanent differential lock control, for example, provides sporty driving fun in combination with increased agility, optimum traction and best possible handling.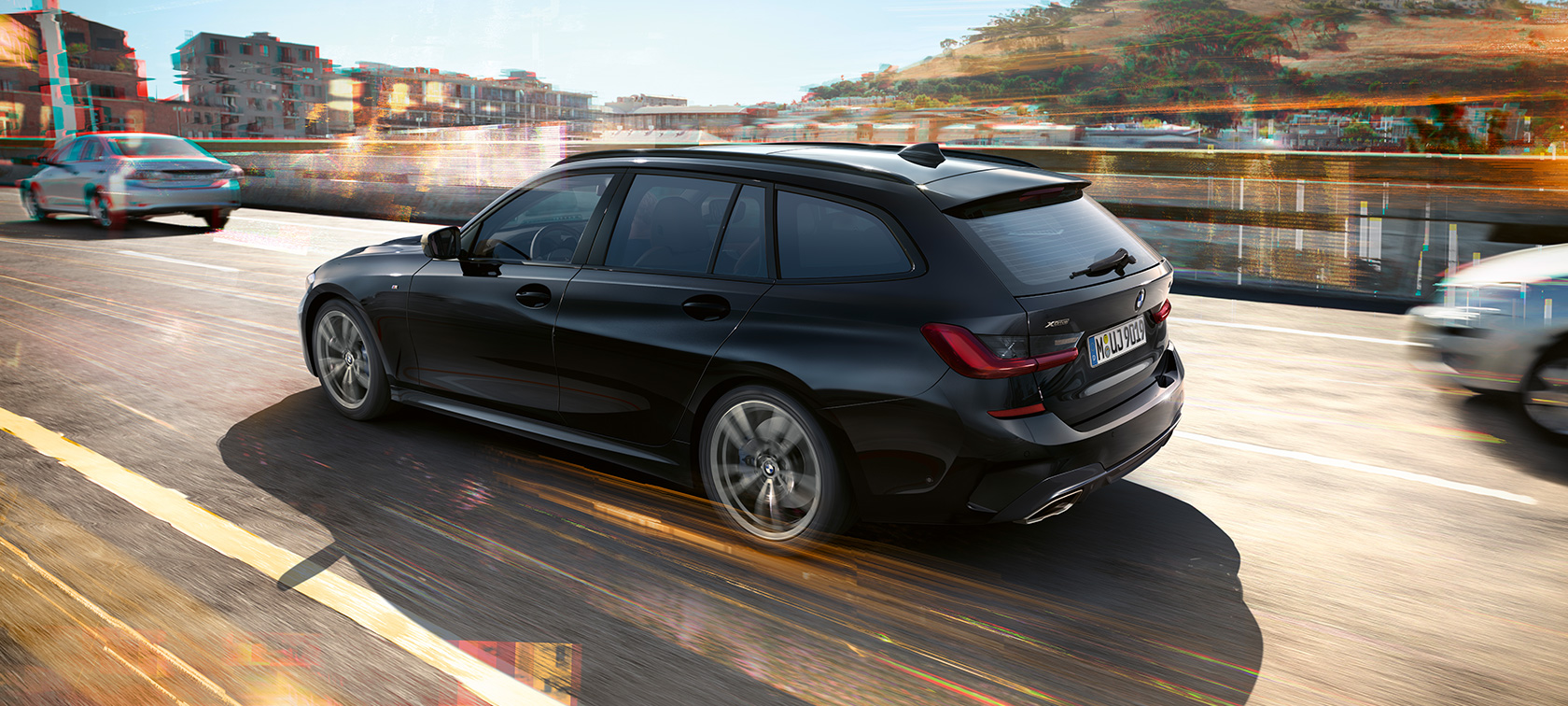 BMW M TwinPower Turbo 6-cylinder engines.
The M340i xDrive is powered by a three-litre inline 6-cylinder petrol engine with BMW TwinPower Turbo technology. With an output of 275 kW (374 hp) and a maximum torque of 500 Nm, it has an extremely sporty driving performance. It accelerates from 0 to 100 km/h in just 4.4 seconds.
M sport differential.
The M sport differential optimises traction and driving stability when changing lanes or accelerating out of a bend, when taking bends at high speeds or on different road surfaces. Traction is optimised with the help of an electronically operated device that reduces the difference in revolution speed between the rear wheels.
8-speed Steptronic Sport transmission.
The 8-speed Steptronic Sport transmission offers incredibly sporty gear changes. Whether automatic or manual using gearshift paddles or gear lever – for comfortable coasting or incredibly dynamic driving. In SPORT mode and with the gear lever in the left-hand S/M position, the gear shifts are configured for the best performance.
Exclusive tailpipe trims.
Exclusively for the M340i: left and right tailpipes in free form and in the colour Cerium Grey. In this way, the tailpipes make a visual statement and emphasise the sportiness of the M340i.
M Sport brake.
The M Sport brake has four-piston fixed callipers at the front and single-piston floating callipers at the rear in blue with the M designation and features large brake discs to ensure an outstanding braking performance.
Variable sport steering.
The Variable sport steering with Servotronic creates a direct and agile steering response and ensures that less physical effort is required to turn the wheel. It reacts to the angle of the steering wheel with varying steering ratios. This improves handling when driving more dynamically and reduces the effort needed to steer when parking and turning.
Adaptive M suspension.
The 10 millimetre lowered Adaptive M suspension can be electrically adjusted at any time to suit the road and driving conditions. Drivers can also adjust the suspension characteristics via the Driving Experience Control to enable their preferred driving style at the time – from comfortable to extremely athletic with markedly agile handling.
Mild hybrid technology.
Mild hybrid technology is used to recover braking energy and supports the combustion engine during acceleration with electric power. This reduces fuel consumption and emissions while giving you a dynamic advantage. The mild hybrid technology also makes the Automatic Start/Stop function much faster and much more comfortable. Currently available for BMW M340d xDrive Touring.
THE DESIGN OF THE BMW M340i xDRIVE TOURING AND THE BMW M340d xDRIVE TOURING.
Sporty through and through.
You can recognise an athlete at first sight. And genuine M design as well. Created for exciting moments and a hands-on motor racing feeling, exclusive design components from the house of BMW M give the BMW M340i xDrive and M340d xDrive Touring the character of a true athlete on the exterior as well.

M Aerodynamics package.
The M Aerodynamic package with M-specific front apron, rear apron and side skirts in body colour and a diffuser insert in Dark Shadow metallic conveys pure dynamics and sportiness. The components not only sharpen the appearance, but also optimize the aerodynamic properties of the vehicle.
19" M light alloy wheels Double-spoke style 792 M Bicolour.
19" M light alloy wheels Double-spoke style 792 M Bicolour Cerium Grey with mixed tyres and runflat tyres, burnished, front 8J x 19 with 225/40 R19 tyres, rear 8.5J x 19 with 255/35 R19 tyres.
BMW Individual high-gloss Shadow Line.
BMW Individual high-gloss Shadow Line includes numerous equipment details in black high-gloss. These include the window recess finishers, the window surrounds and guides, the B-pillars as well as the exterior mirror frames, the mirror base and blade.
Exclusive tailpipe trims.
Exclusively for the M340i xDrive and M340d xDrive Touring: left and right tailpipes in free form and in the colour Cerium Grey. In this way, the tailpipes make a visual statement and emphasise the sportiness of the M340i xDrive and M340d xDrive Touring.
Sport seats & M seat belts.
The Sport seats for driver and front passenger feature optimum support and various adjustment options, including backrest width. The M seat belts with belt tensioner and belt force limiter boast an exquisite woven highlight in the classic M colours.
M Leather steering wheel.
The M Leather steering wheel including multifunction buttons, an M badge and an integrated driver-side airbag is featured in three-spoke design. With a steering wheel rim in leather 'Walknappa' Black with black stitching and contoured thumb rests, it provides a direct, athletic steering experience.
M specific instrument cluster.
In addition to pure driving data such as speed and revs, the M specific instrument cluster also displays additional information for particularly sporty driving.
ASSISTANCE SYSTEMS AND CONNECTIVITY FOR THE BMW M340i xDRIVE TOURING AND THE BMW M340d xDRIVE TOURING.
Intuitive and anticipative.
The BMW M340i xDrive and M340d xDrive Touring aspire to bring you safely to your destinations – and to turn your drive into a sporty experience. To achieve this the intelligent features of the Driving Assistant Professional and the Parking Assistant already enable partially automated driving. Alongside the Active Cruise Control with Stop&Go function incl. collision, pedestrian and cyclist warning with braking function, the steering and lane control assistant support you at speeds of up to 210 km/h. Continuing to pave the way towards autonomous driving the Parking Assistant and the Reversing Assistant maneuver you independently in and out of parking spots. For optimum comfort and maximum safety – in all driving situations. Helping to achieve this, the innovative BMW Intelligent Personal Assistant functions as a constant companion. It notes your individual decisions and settings and thus gets to know you better with each passing day. When required, it controls navigation, entertainment and office functions and always knows the fastes way to your favourite Italian restaurant. Like a genuine assistant, it answers questions concerning the vehicle to make you familiar with your BMW M340i xDrive or M340d xDrive Touring and its variety of innovative features and functions.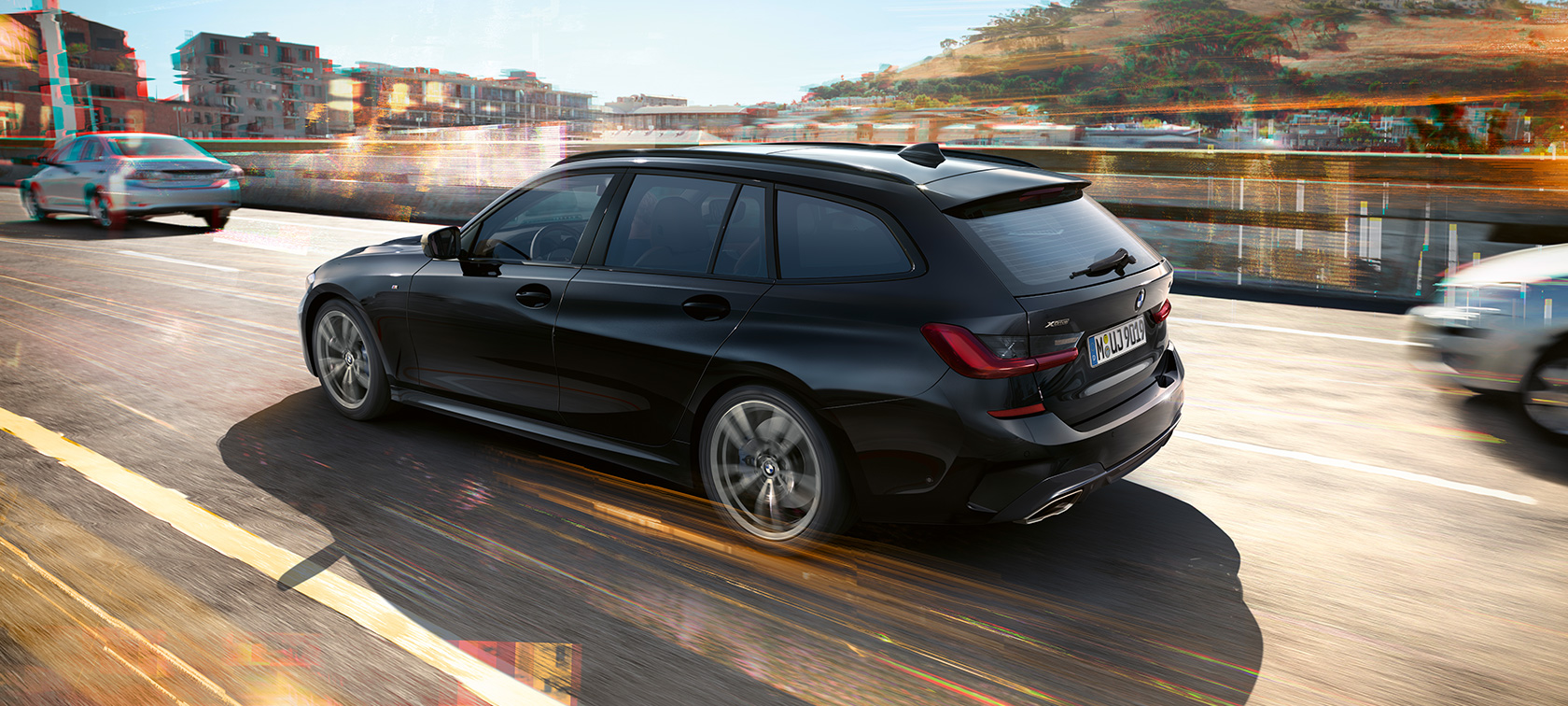 Driver assistance
Connectivity
Driving Assistant Professional.
Driving Assistant Professional offers optimum comfort and safety during critical or monotonous traffic situations. Apart from the contents of the Driving Assistant, it also includes Steering and Lane Control Assistant with extended functions, Lane Change and Emergency Stop Assistant and Lane Keeping Assistant with active side collision protection.
Steering and lane control assistant with extended functions.
The Steering and Lane Control Assistant with extended functions can be activated to support you in monotonous traffic situations. It helps you to keep the vehicle in the centre of its lane, assists you in narrow places and, with active route guidance, makes navigation on motorways easier.
BMW Drive Recorder.
The BMW Drive Recorder allows you to record a video from the vehicle environment and play the video on the central Control Display or via USB export also on your device. Important vehicle information such as speed and GPS position are stored synchronously with the video. The BMW Drive Recorder has two sub-functions, the Event Recorder and the Crash Recorder.
Crossroads warning with city braking function.
The Crossroads warning with city braking function detects traffic lights, traffic signs and vehicles crossing and can avoid accidents. If a collision cannot be avoided, the system helps to reduce the impact speed.
Parking Assistant Plus.
Parking Assistant Plus makes parking and manoeuvring the vehicle easier. It features among others the Surround View system including Top View, Panorama View, Remote View 3D, as well as a lateral parking aid, the emergency braking function Active Park Distance Control, Parking Assistant with linear guidance and Reversing Assistant.
Reversing Assistant.
The Reversing Assistant stores the last 50 m of the driven path in forward travel up to 35 km/h, so that it can be retracted if required. You are relieved of the steering work and can concentrate on monitoring the vehicle environment.
Automatic Speed Limit Assist.
The automatic Speed Limit Assist adapts the active cruise control dynamically to upcoming speed limits. These are determined along the probable route by the navigation system and checked by the camera. The information provided is continuously updated by the entire fleet.
Connected Command.
Would you like to concentrate fully on the road ahead? Then hand over some of the control to your passengers. This is easy with Connected Command. Using the BMW Connected app, passengers with your authorisation can access the entertainment and navigation systems. They can also adjust key features of the air conditioning system.
Concierge Service.
Will it be sunny tomorrow in Rome? When does my flight take off? The Concierge Service is there to help when you are travelling and can support you with any request at the touch of a button. Whether that is a booking at a restaurant, a hotel or a cinema. You can even use it for payments. Wherever you are, whatever you need, the Concierge Service is by your side.
Caring Car.
Arrive with fresh energy? Relax when stressed? No problem with Caring Car. When you say, 'Hey, BMW. I'm tired,' or 'Hey, BMW. I'm feeling stressed,' your BMW Intelligent Personal Assistant will launch the Vitalize or Relax programme. Both stimulate your senses by coordinating the interplay of various interior functions.
Remote Software Upgrade.
Do you want your BMW to be up to date with the latest software? With Remote Software Upgrade, your BMW will always be like new. Upgrades are installed over-the-air, just as they are for your smartphone. In this way, other functions in your vehicle can also be activated.
BMW Live Cockpit Professional.
The BMW Live Cockpit Professional with navigation function includes a high-quality display network consisting of a high-resolution 10.25" Control Display that can be operated by touch and a fully digital 12.3" instrument display. The BMW Operating System 7 can also be operated via the iDrive Touch Controller.
Connected Music.
Listen to your favourite music wherever you are. Classical on the motorway, jazz during rush hour and pop when you're cruising. With Connected Music, you can directly stream as many as 30 million songs without any limits via BMW's music partner Spotify, using the SIM card installed in your vehicle.
ConnectedDrive Store.
Enter the digital world of BMW. The ConnectedDrive Store allows you to book digital services. Anytime. Over the air.