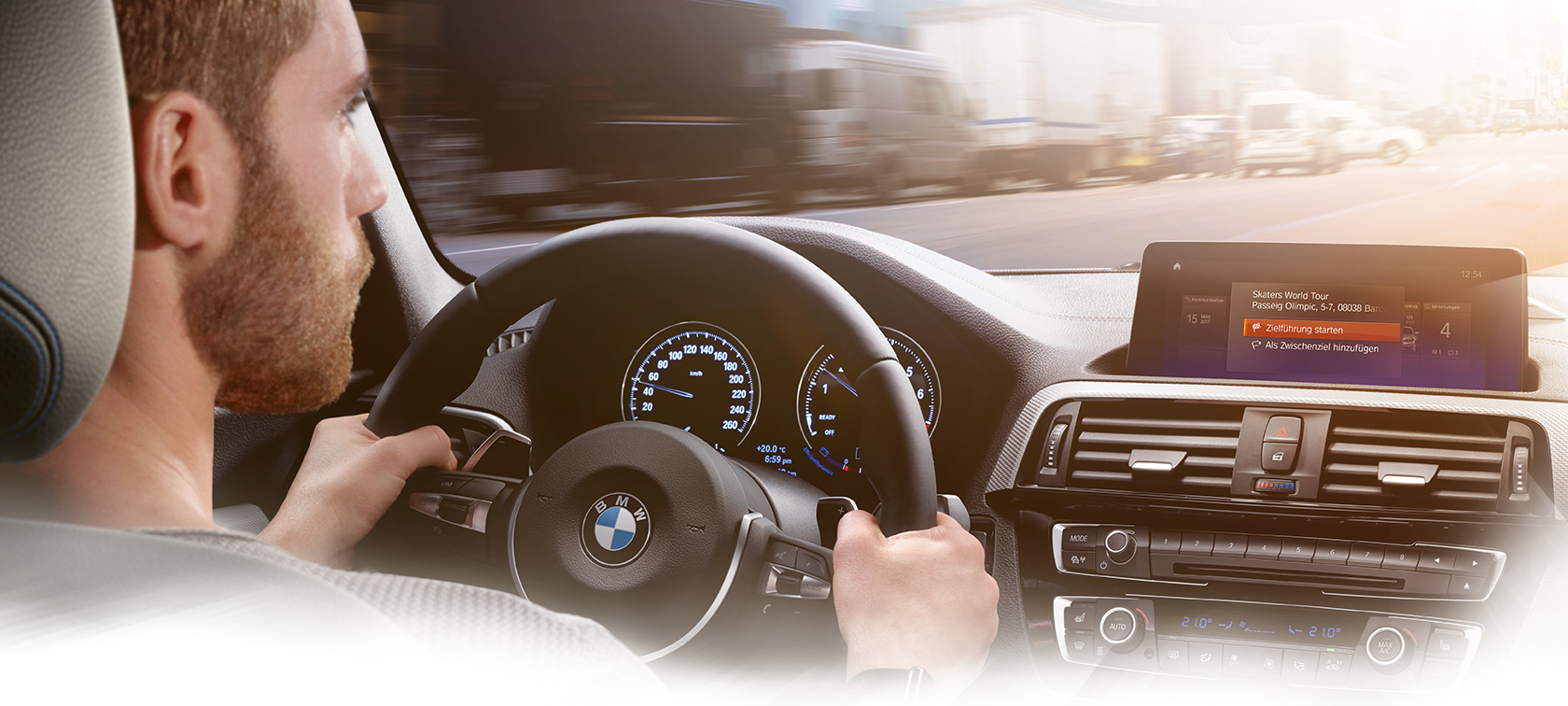 DIGITAL NATIVE.
Connectivity and driver assistance in the BMW 1 Series.
The BMW 1 Series is equipped with a whole host of innovative technologies that allow you to maintain optimum connectivity when on the road and arrive at your destination relaxed. From groundbreaking navigation and entertainment functions to the straightforward use of your personal smartphone apps, you will enjoy contemporary mobility that sets new standards.

Read more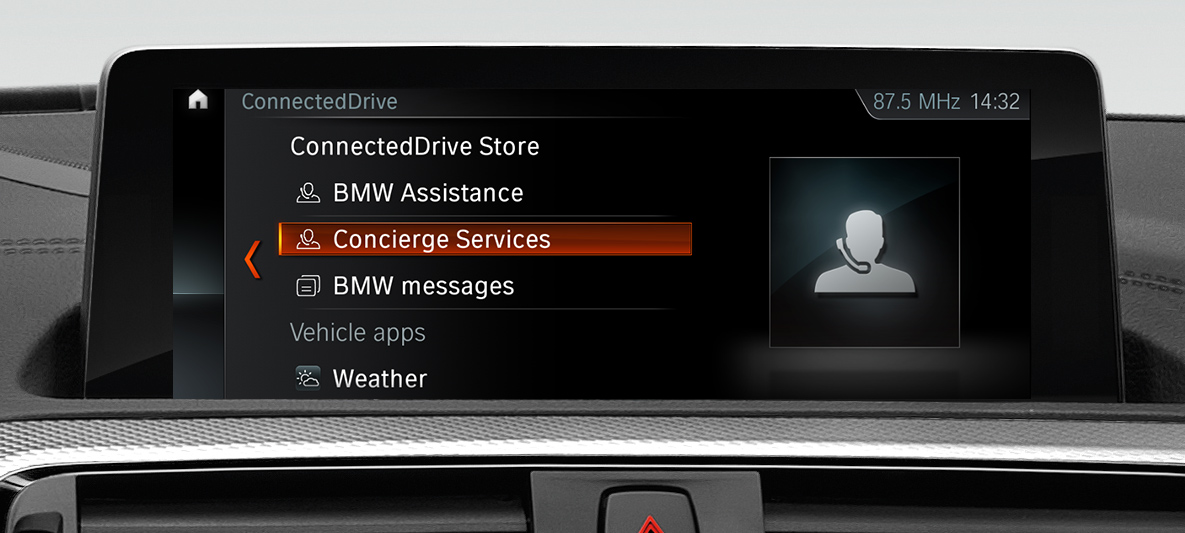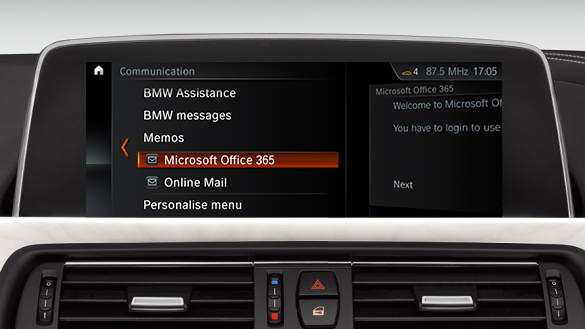 CONNECTED ALLROUNDER.
Connected at a high level: with the optional ConnectedDrive Digital Services, you enjoy numerous features, smart apps and first-class entertainment. Using the online entertainment offer, for example, you can open an account with Deezer or Napster for unlimited music access. This allows you unlimited access to millions of titles free of charge. And the integrated music recognition identifies every song in the radio and saves it in your personal library if required. That really rocks, regardless of which music style you prefer.

Online Entertainment

Online Entertainment in your BMW gives you access at all times via the integrated infotainment system to more than 30 million music titles from our partners such as Napster or Deezer. You can additionally listen to the music wherever you want because you also have access to the music tracks outside of the vehicle with every other device supported by the provider. Simple and convenient.


Apple CarPlay®

Why go without the features of your iPhone in your BMW when you can continue operating it as usual? The preparation for Apple CarPlay® gives you remote access to telephony as well as apps like iMessage, WhatsApp, TuneIn, Spotify and Apple Music. You can also use the voice button on the steering wheel to access Siri, Apple's voice assistant.


Concierge Service

Will it be sunny tomorrow in Rome? When is my flight and where is the best restaurant in the city? Concierge Services are there to help when you are travelling and can support you with any request at the touch of a button – individual, personal and fast. Wherever you are, whatever you need.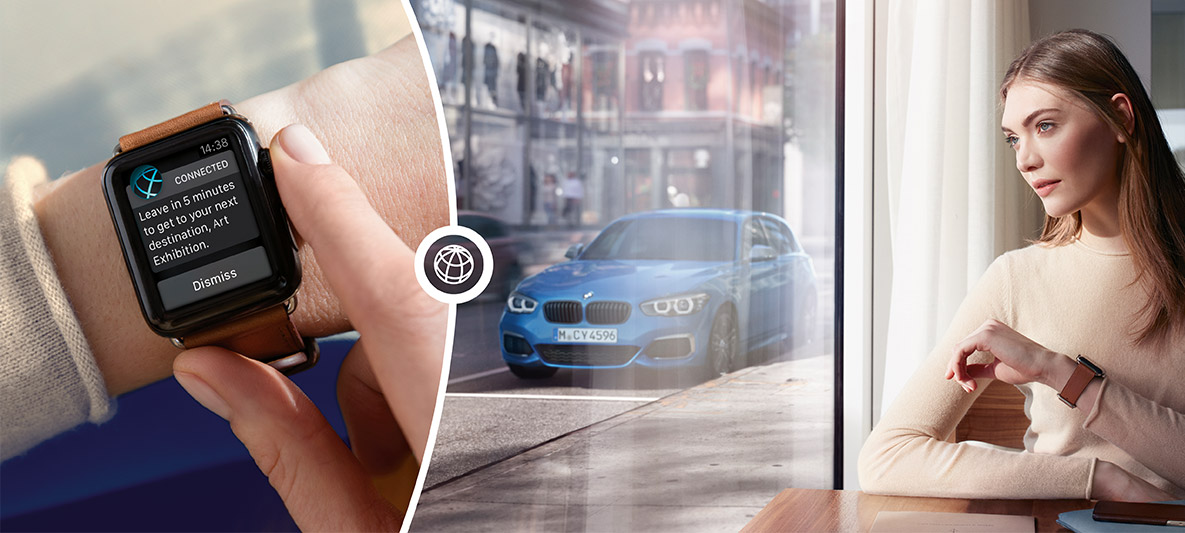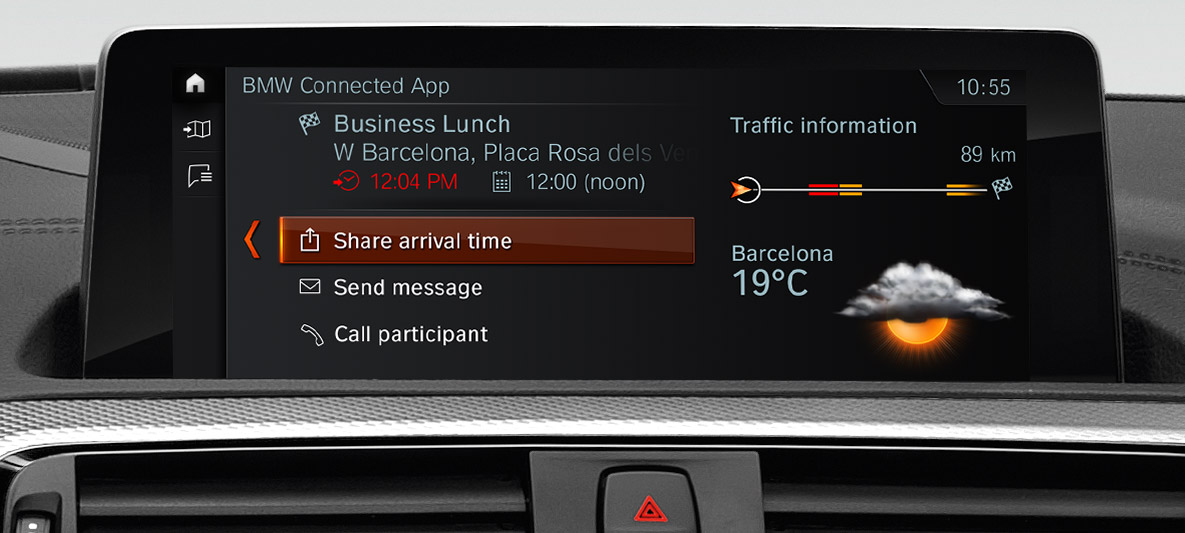 TOUR MANAGER.
BMW Connected is an innovative app that offers intelligent support in reaching your destination on time and in a relaxed manner. It transfers appointments from your smartphone to the navigation system, tells you when you need to set off and informs others if you should be delayed. The app also gives you information on locations, fuel level and whether the vehicle is locked or not. In addition, you can open and close your BMW 1 Series with the app. And if you can't remember where you've parked, the app will guide you safely there on foot.

Share Destination / Send to Car

With BMW Connected you can transfer the destinations you have from smartphone apps or from the web conveniently and wirelessly to your BMW 1 Series. And the same is true for the away from home appointments in your smartphone calendar including the desired arrival times. The system adopts the new destination into the navigation system of your BMW 1 Series with ease.


Time to Leave Notification

Never arrive late again: BMW Connected notifies you of the optimum departure time via smartphone or Apple Watch so that you arrive at your next destination on time. The departure time proposed by the system here is based on real-time traffic data.


Share your estimated time of arrival

Should you nevertheless end up in a traffic jam, you can then, for example, simply send the colleagues or business partners waiting for you a text message to notify them of your delay – and the recalculated estimated time of arrival. And all of this without touching your phone.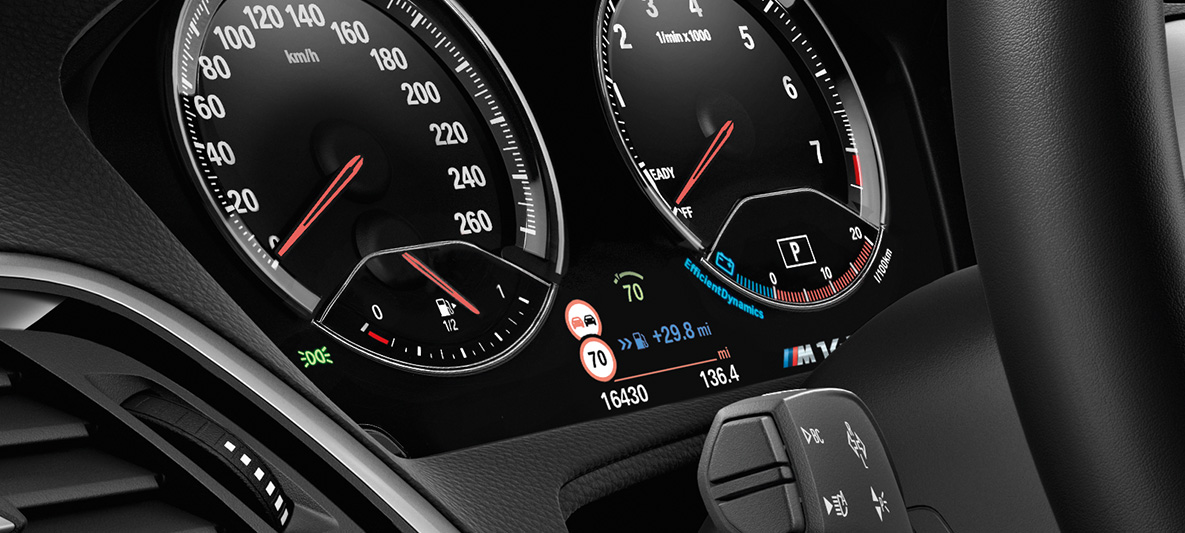 BODY GUARD.
The BMW 1 Series offers a number of intelligent driver assistance systems that make life easier. The Driving Assistant with Approach and Person Warning with light city braking function warns you in good time of other vehicles or pedestrians. The Lane Departure Warning reacts when you change lanes unintentionally and the Attentiveness Assistant recommends that you take a break if you show any signs of fatigue. And with Active Cruise Control and Speed Limit Info, you always have full command of your speed. Once you have arrived at your destination, the Parking Assistant allows you to conveniently move into your space.

Active Cruise Control

Active cruise control with Stop&Go function including approach control warning and braking function maintains a speed preselected by the driver as well as the distance to the driver ahead. The vehicle takes over acceleration and braking and keeps the predetermined distance to the car ahead, even in slow-moving traffic and down to a standstill in traffic jams.


Speed Limit Info

Speed Limit Info including no overtaking indicator records speed restrictions and information on overtaking prohibitions and shows them in the Info Display of the instrument cluster and in the Head-Up Display.


Parking assistant

The Parking assistant makes parking parallel and perpendicular to the road easier. To do this, the system also measures tight parking spaces while driving past at low speed. When a large enough gap has been found, the Parking assistant takes over the steering while the driver continues to operate the accelerator, gears and brakes.

SO CONNECTED, YOU'RE FREE.
BMW ConnectedDrive stands for the intelligent interaction between vehicle, driver and outside world. Enjoy more comfort, more entertainment and the reassuring feeling of safety on all routes. Or to put it simply: more driving pleasure.

Read more
Fuel consumption and CO2 emissions.
BMW M140i 5-door (3):
Fuel consumption in l/100 km (combined): 7.4
CO2 emissions in g/km (combined): 169–168


The values of fuel consumptions, CO2 emissions and energy consumptions shown were determined according to the European Regulation (EC) 715/2007 in the version applicable at the time of type approval. The figures refer to a vehicle with basic configuration in Germany and the range shown considers optional equipment and the different size of wheels and tires available on the selected model.

The values of the vehicles labeled with (3), are already based on the new WLTP regulation and are translated back into NEDC-equivalent values in order to ensure the comparison between the vehicles. [With respect to these vehicles, for vehicle related taxes or other duties based (at least inter alia) on CO2-emissions the CO2 values may differ to the values stated here.]

The CO2 efficiency specifications are determined according to Directive 1999/94/EC and the European Regulation in its current version applicable. The values shown are based on the fuel consumption, CO2 values and energy consumptions according to the NEDC cycle for the classification.

For further information about the official fuel consumption and the specific CO2 emission of new passenger cars can be taken out of the "handbook of fuel consumption, the CO2 emission and power consumption of new passenger cars", which is available at all selling points and at https://www.dat.de/angebote/verlagsprodukte/leitfaden-kraftstoffverbrauch.html.